Yoga and Hiking at Alderfer/Three Sisters Trail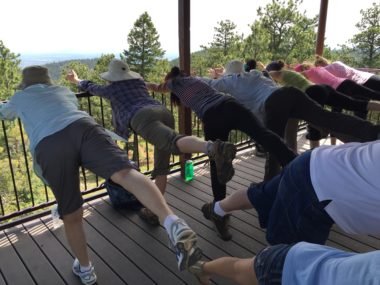 5th Annual Yoga and Hiking at Alderfer/Three Sisters Trail
July 29th, 2017
DATE:  Saturday, July 29th 2017
TIME:  9AM – 11:00 AM  (8AM caravan from Living Yoga option)
LOCATION:  Alderfer/Three Sisters Trail
COST:   Complimentary
Join Living Yoga for the 5th Annual "Yoga and Hiking", this year at Alderfer/Three Sisters Trail.  An All Levels asana (posture) practice will be woven through the mellow to intermediate hike with cool rock formations, trees, open space, and views.  Yoga and Hiking invites breath, movement, and deeper awareness of what is within and around and us.  This complimentary community event welcomes students, friends, and family to join.  We will meet at the East parking lot and begin the journey at 9am (or caravan from Living Yoga at 8am).  Approximately 2 hours. Bring what you need for the outdoors including: hiking shoes, hat, sunglasses, sunscreen, water, snacks/lunch, etc. Natural yoga props provided.
Directions link:
http://jeffco.us/open-space/parks/alderfer-three-sisters-park/
Please do sign up so we know to watch for you.
We look forward to sharing a beautiful day in nature with you!