Francois Raoult Weekend Intensive April 28-29 2018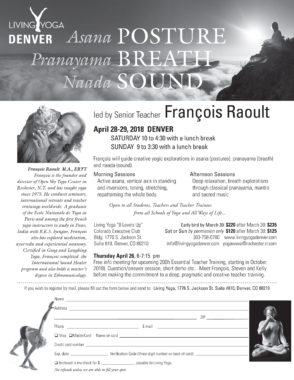 Asana Posture   Pranayama Breath   Naada Sound
Senior teacher Francois Raoult will guide yogic explorations in asana (posture), pranayama (breath), and naada (sound).
April 28-29, 2018
Saturday 10am-4:30pm with a lunch break
Sunday 9am-3:30pm with a lunch break
Morning Sessions include active asana, vertical axis in standing and inversions, toning, stretching, and repatterning the whole body.
Afternoon Sessions include deep relaxation, breath explorations through classical pranayama, mantra, and sacred music.
This workshop is open to all Students, Teachers, and Teacher Trainees from all Schools of Yoga and All Ways of Life.
Francois Raoult, M.A., ERYT is the founder and director of Open Sky Yoga Center in Rochester, NY and has taught yoga since 1975. He conducts seminars, international retreats and teacher trainings worldwide. A graduate of the Ecole National de Yoga in Paris and among the first french yoga instructors to study in Pune, India with B.K.S. Iyengar, Francois also has explored meditation, Ayurveda and experiential anatomy. Certified in Gong and Laughing Yoga, Francois completed the International sound Healer program and also holds a master's degree in Ethnomusicology.
Cost
$235 (Early bird registration by March 30th, 2018 for both days is $220)
Sat or Sun by permission only $120, after March 30th $125